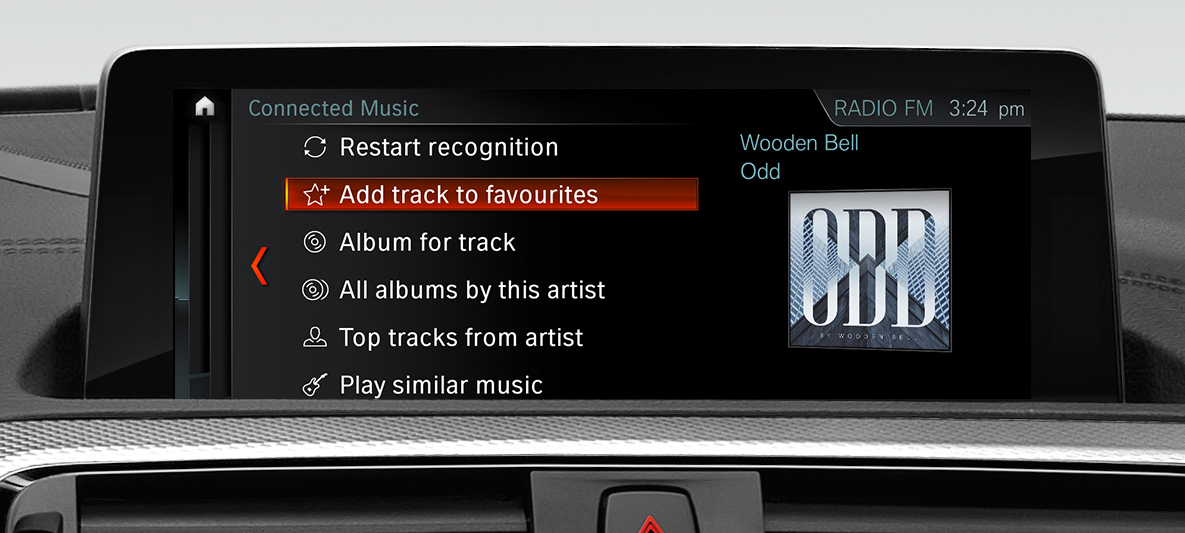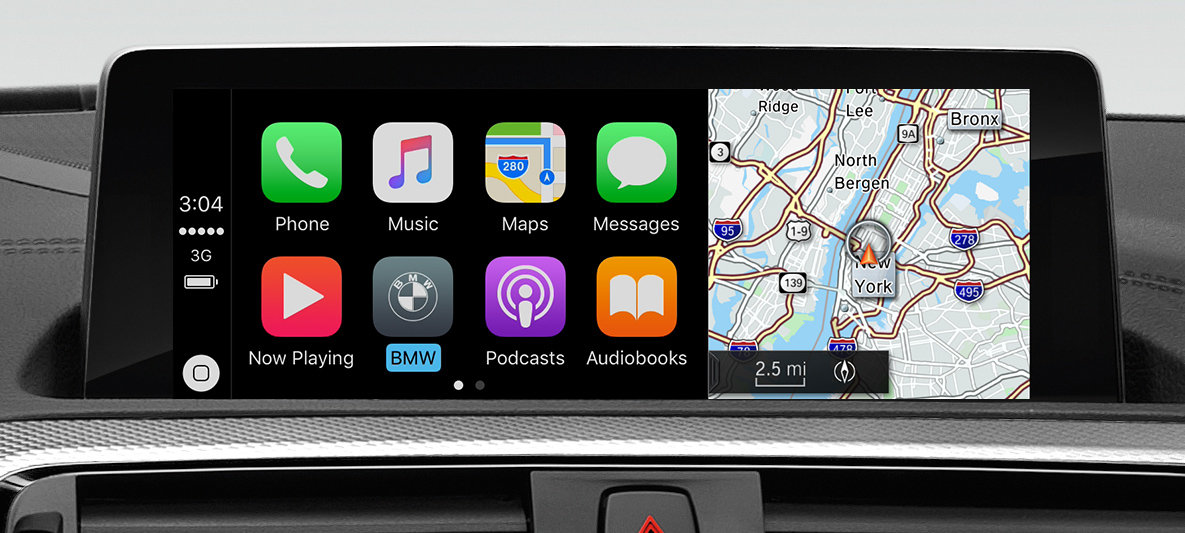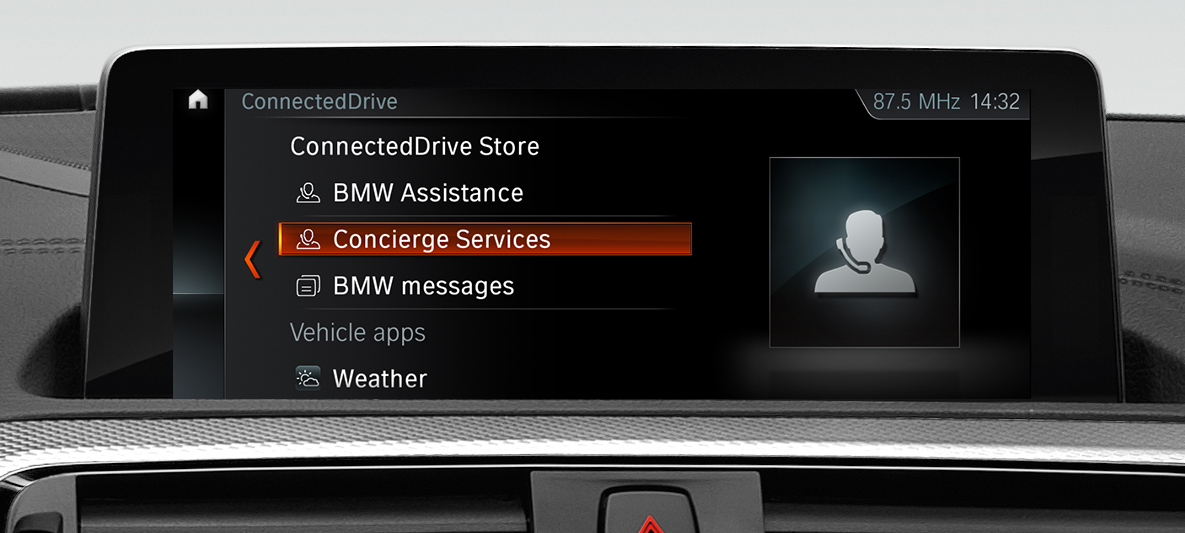 CONNECTED ALLROUNDER.
Connected at a high level: with the optional ConnectedDrive Digital Services, you enjoy numerous features, smart apps and first-class entertainment. Using the online entertainment offer, for example, you can open an account with Deezer or Napster for unlimited music access. This allows you unlimited access to millions of titles free of charge. And the integrated music recognition identifies every song in the radio and saves it in your personal library if required. That really rocks, regardless of which music style you prefer.

Online Entertainment

Online Entertainment in your BMW gives you access at all times via the integrated infotainment system to more than 30 million music titles from our partners such as Napster or Deezer. You can additionally listen to the music wherever you want because you also have access to the music tracks outside of the vehicle with every other device supported by the provider. Simple and convenient.


Apple CarPlay®

Apple CarPlay® preparation enables you to use selected functions of your iPhone wirelessly and conveniently. Smartphone contents and functions such as music, iMessages/SMS, telephony, Siri , navigation and selected third-party apps can thus be displayed and operated in the customary manner via the user interface in the vehicle and via voice control.


Concierge Service

The Concierge Service establishes a connection to a BMW Call Centre at the press of a button. For instance, it searches for the restaurant you want, the nearest cash dispenser or an on-duty pharmacist and sends you the relevant address data, directly to your BMW navigation system if you so wish.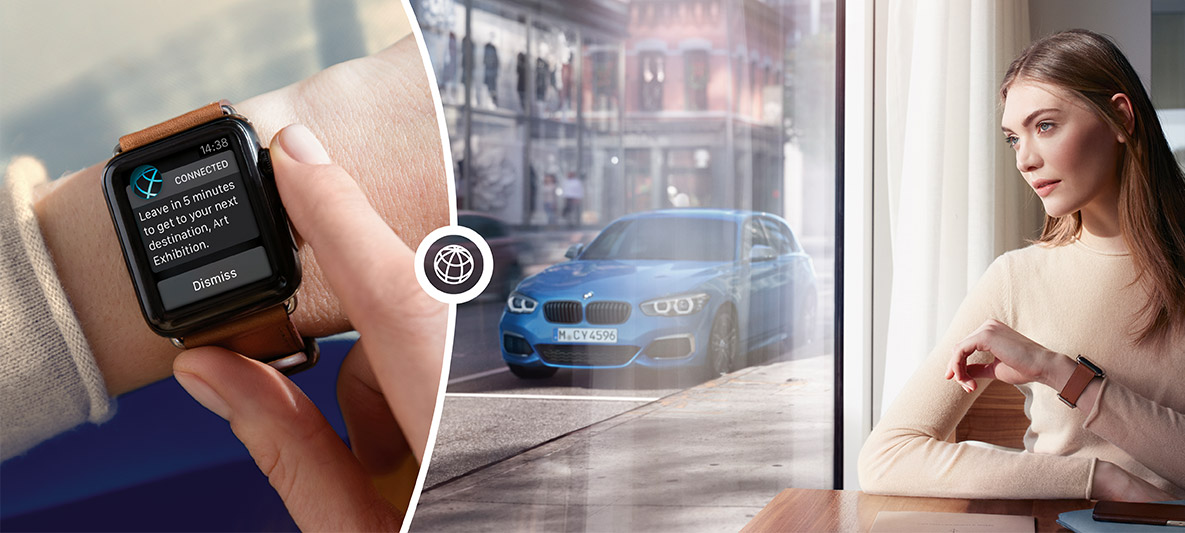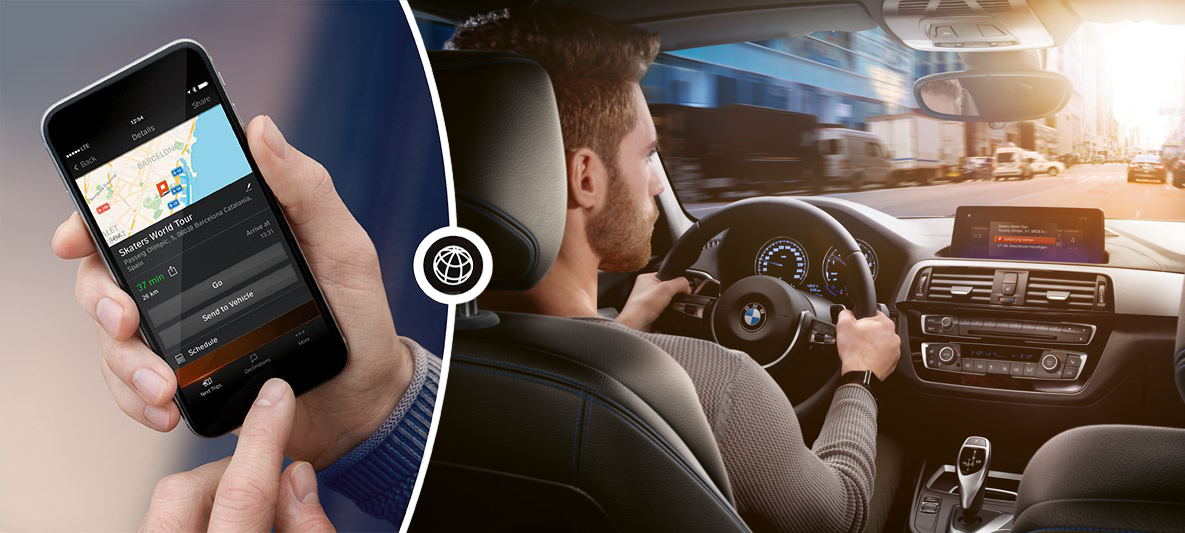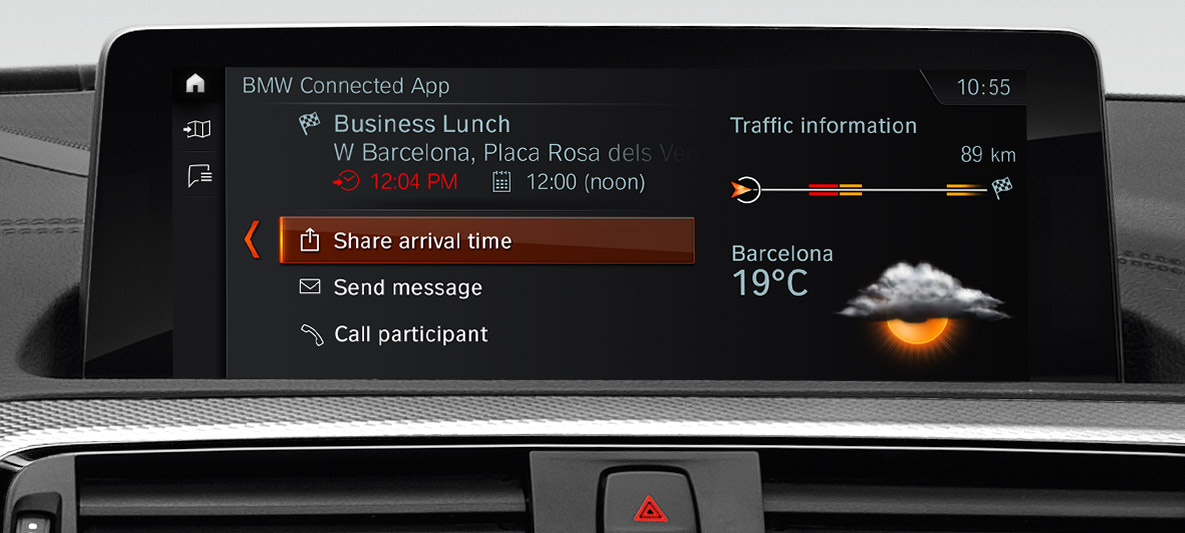 TOUR MANAGER.
BMW Connected is an innovative app that offers intelligent support in reaching your destination on time and in a relaxed manner. It transfers appointments from your smartphone to the navigation system, tells you when you need to set off and informs others if you should be delayed. The app also gives you information on locations, fuel level and whether the vehicle is locked or not. In addition, you can open and close your BMW 1 Series with the app. And if you can't remember where you've parked, the app will guide you safely there on foot.

Share Destination / Send to Car

With BMW Connected you can transfer the destinations you have from smartphone apps or from the web conveniently and wirelessly to your BMW 1 Series. And the same is true for the away from home appointments in your smartphone calendar including the desired arrival times. The system adopts the new destination into the navigation system of your BMW 1 Series with ease.


Time-to-Leave-Notification

Never arrive late again: BMW Connected notifies you of the optimum departure time via smartphone or Apple Watch so that you arrive at your next destination on time. The departure time proposed by the system here is based on real-time traffic data.


Share your estimated time of arrival

Should you nevertheless end up in a traffic jam, you can then, for example, simply send the colleagues or business partners waiting for you a text message to notify them of your delay – and the recalculated estimated time of arrival. And all of this without touching your phone.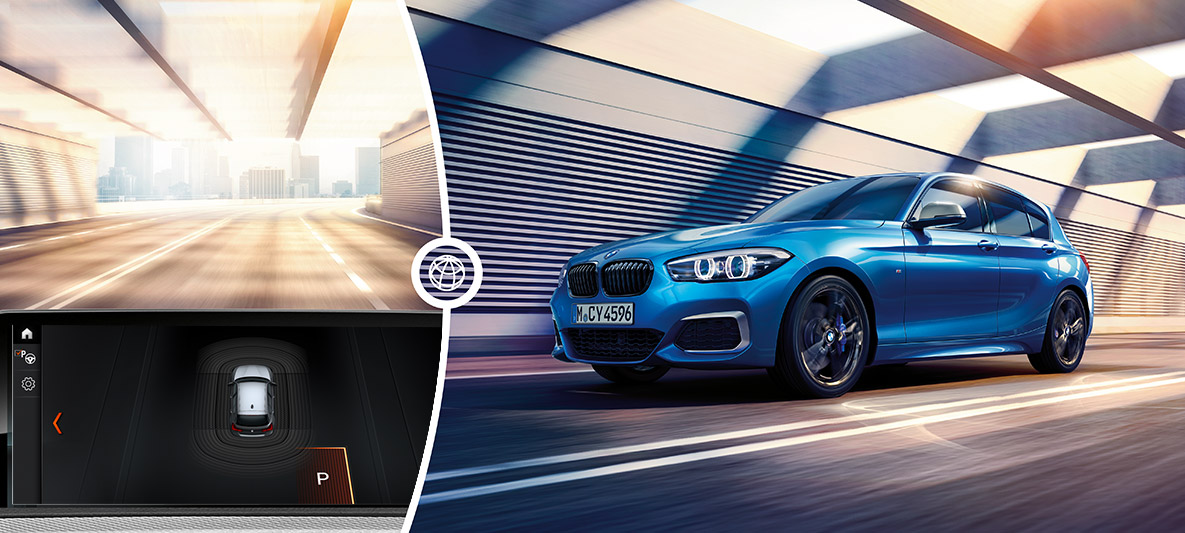 GUARDAESPALDAS.
El BMW Serie 1 ofrece varios sistemas inteligentes de asistencia al conductor que hacen la vida más fácil. El Asistente de conducción con Advertencia de acercamiento de objetos o peatones que, a su vez, cuenta con la función de frenado ligero en ciudad te avisa con anticipación si hay otros vehículos o peatones cerca. El sistema de Advertencia de salida de carril se activa cuando cambias de carril involuntariamente y el Asistente de atención te recomienda hacer una pausa en caso de mostrar señales de cansancio. Una vez que hayas llegado a tu destino el Asistente para estacionarse te permite entrar cómodamente en tu lugar.

Asistente para estacionarse

El asistente para estacionarse hace que estacionarse de forma paralela o perpendicular a la calle sea más fácil. Para ello, el sistema mide los espacios de estacionamiento apretados al pasar al lado a baja velocidad. Una vez que encuentra un lugar lo suficientemente grande, el asistente se hace cargo del volante mientras que el conductor se encarga del acelerador, las velocidades y los frenos.

SO CONNECTED, YOU'RE FREE.
BMW ConnectedDrive stands for the intelligent interaction between vehicle, driver and outside world. Enjoy more comfort, more entertainment and the reassuring feeling of safety on all routes. Or to put it simply: more driving pleasure.

Read more
Consumo de combustible y emisiones de CO2.
BMW M140i 5 puertas:
Consumo de combustible en l/100 km (promedio): 7.1
Emisiones de CO2 en g/km (promedio): 179

Los valores de consumo de combustible y emisiones de CO2 dependen del tamaño de las llantas y los neumáticos elegidos. Los valores de consumo se basan en el ciclo ECE.

Encontrarás más información sobre los valores oficiales de consumo de combustible y emisiones de CO2 de autos nuevos en las directrices de consumo de combustible y emisiones de CO2 de autos nuevos, las cuales están disponibles de forma gratuita en todos los puntos de venta de DAT Deutsche Automobil Treuhand GmbH, Hellmuth-Hirth-Str. 1, 73760 Ostfildern, Alemania, y en http://www.dat.de/en/offers/publications/guideline-for-fuel-consumption.html.